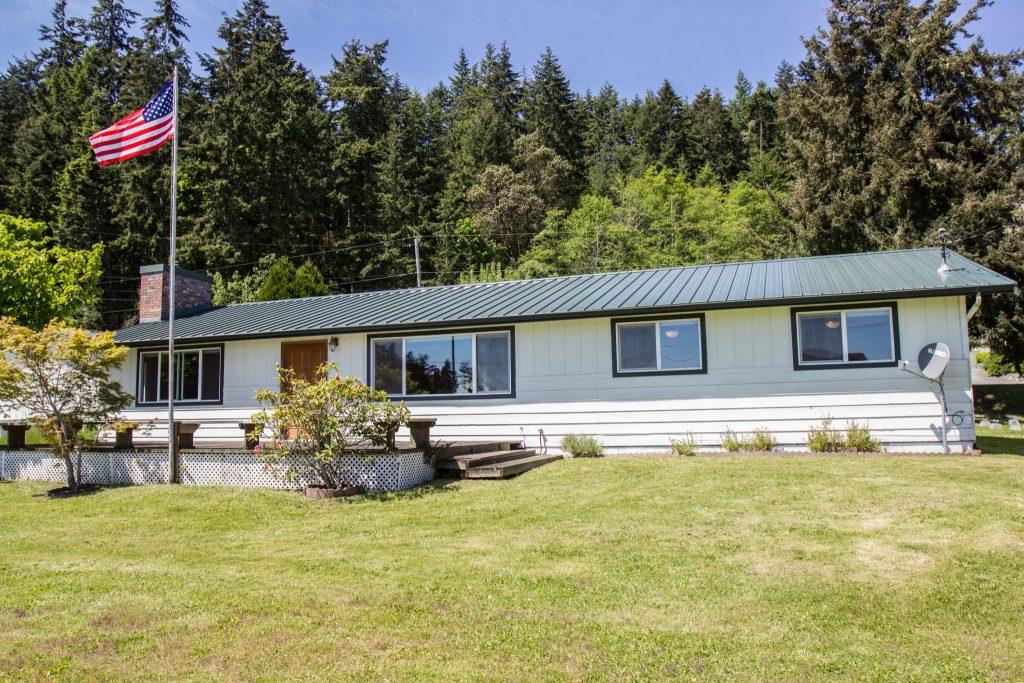 The home offers an open floor plan that enables somebody cooking in the kitchen to still be a part of the action that is happening in the living, dining, and great room. This makes for fond memories of being together.
In the great room, you can relax next to the stone fireplace, which boasts a gas insert to keep warm. This is the best room to view wildlife at the lagoon because it offers an unobstructed view. The great room contains two full size sleeper sofas that can pull out to sleep an additional 4 people if the bedrooms are full.
The living room has a 46 inch television set and basic cable. There is also a DVD player to watch movies. Games and puzzles are made available for those who like to play. A large comfy couch will be your retreat if you need to sit down and relax.
The dining room has a large square table with seating for six. There is also more room to sit and eat at the bar (3 stools).
Down the hall, the main bath offers a tub/shower combination for those in your party that prefer a bath.
The home is also equipped with an attached laundry room for you and your guests to wash any clothes or linen you need. There will be a beginning supply of paper products (toilet paper, paper towels, etc.) made available along with shampoo, soap and detergent. Again, this will only be a beginning supply of these items so if your stay requires more of a certain item, this will be your responsibility (the local grocery store is only 5 minutes away).
There are three bedrooms here at The Harrington Lagoon Hideaway. The master bedroom has a queen bed, closet, and a big dresser with plenty of storage room for your clothes. The master bedroom also offers a master bath that is equipped with a master shower, toilet, and vanity. The second bedroom has all the amenities as the master except the bathroom. The third bedroom, which is geared more towards kids, offers a trundle bed with two twin size mattresses, a closet, and a dresser. In this room there is also an entertainment center with a small TV. and a few different video game consoles to keep any kid (or adult!) entertained.
Every room in the house has a window to let the sunshine and Puget Sound breeze in. Some of the special on-site amenities are an unobstructed view of Harrington Lagoon, a gas fireplace insert, ceiling fans in every room, games for kids and adults, and a covered back patio (10 feet x 40 feet) with three skylights.

Activities and Attractions